Lead the virtual video streaming industry
with your on-demand Netflix like app
Redefine the rules of the entertainment network by building your own video on demand and media streaming platform now. With Appdupe's customized Netflix clone script, you can come up with the best app which can entertain you with millions of TV shows and movies. Our highly scalable and flexible app will suit all your requirements from adding features to modifying the front-end UI. Integrate all sorts of web series, live streaming shows, original documentaries and movies of all genres in a single app. Enhance customer experience with our intricately designed Netflix-like app. Immortalize your streaming software in this new generation of entertainment seekers and boost your earnings.
Services Included in Netflix Clone
Video Management
The videos that are uploaded on the website can be easily managed by admin depending on the channel users.
Category Management
Keep your users organized and separate, and also send messages to all the people in teams and departments.
Profile Management
Users can independently create their own profiles with distinguished settings.
Social Media Sharing
Users can share a particular video they like with others over social media platforms like Facebook, Whatsapp and Twitter etc.
Ratings and Reviews
Users can rate and review a particular video which can be viewed by other users.
Notification
Users never have to miss another video ever again. All uploads can be sent with a notification.
Social Media Login
Signup to the app using Facebook or Google+ without the headache of getting your users to signup separately with Email or Phone number.
Search Module
Users can use this search function available in the application to instantly search for the video they're looking for depending on the Titles, Actors, and Genres.
Real-Time Notification
Our Netflix-like application keeps the users updated with the latest videos released by a particular channel with the help of instant notifications.
Profile Page
Control the basic profile settings on this page. View all your activity on the app.
Dynamic Admin Dashboard
Enjoy complete control over app activities through an efficient admin dashboard that displays data in real-time.
Bitcoin Wallet Integration
$1000
Integrate our bitcoin wallet and start trading with thousands and millions of bitcoin users globally. Highly secured and seamless.
Adservice Integration
$999
Upon your request, it's possible for our developers to integrate custom or available ad-services providing a way for monetization.

Custom Video Player
$749
Although the application has a default video player, we can develop or integrate any video player according to your need.

Custom Payment Integration
$499
The application has Paypal and Stripe as the type default type of payment. We can integrate more gateways upon your request for a minimal amount.

Promotion Codes
$499
This feature enables your customers to share a promo code to their friends and peers so that they both get a better discount and brings virality to your app.
Netflix Clone App Screenshots
An enhanced version of the Netflix app. Built with pure technology expertise to help entrepreneurs prosper.
Details
Episodes
List Of Categories
Home
List Of Movies
List the First Come
Related List
Rate Us
Reviews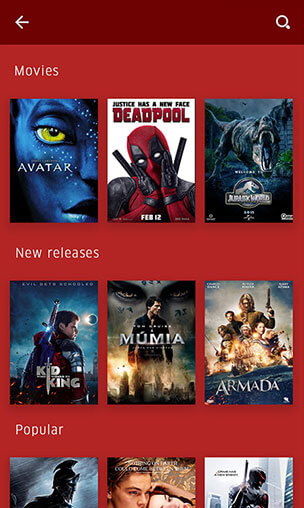 Mobile Apps
Whitelabel iOS and Android apps for your users and providers all built in native iOS and Android source code for brilliant execution.
Web App
A feature-rich front end website for your users and providers to log in, search videos, view, rate, review and share them with others.
Admin Dashboard
You also get a powerful Admin Dashboard to control your entire business from validating and approving different user groups to adding different payment methods.
100% Customizable
From the admin dashboard to the user interface, personalize your mobile app according to your business needs on any platform, iOS or Android.
Credit Card & Paypal
MaxFlix is built with Paypal Mobile SDK, Stripe Credit Card Processing as default available methods. We can add more upon request.
Transactional
If you wish to watch any video on demand, TVOD or Transactional Video On Demand is here to deliver quality video content for viewers through which they can pay for every individual video separately.
Catch-up TV
For those who do not want to miss their favourite TV shows, Catch-up TV is the ultimate solution. Customers can watch via the VOD service hours or even days after the original broadcasting of the show. So, users can watch programs whenever they get time.

Subscription Models
Instead of paying every month for watching videos online, the Subscription VOD (SVOD) is the best business model similar to Amazon Video, Netflix and HBO through which subscribers can access unlimited programs with a nominal monthly payment.
Near Video On Demand
What do multi-channel broadcasters prefer? Well, using high-bandwidth, they use Near Video On Demand or NVOD which is a type of on-demand video service that has schedule times designated in advance. The audience can enjoy a pay-per-view service seamlessly.
Push Video On Demand
Make the job of searching for videos much easier for your viewers by pushing the content onto their set-top box. Even though viewers have not attempted to look for any content, the Push Video On Demand model can surprise them with interesting and personalized content.
Advertising Video On Demand
Want to reach the maximum number of people by publicizing on broadcast and cable channels? The Advertising Video On Demand is an innovative VOD technique that is actually a revenue model based on advertising.
Netflix Clone App Features
Multiple Social Logins
Let your viewers connect with their family and friends through multiple social plugins. Allow them to share the latest movies and videos they watched on their favorite social media platforms like Facebook, Twitter, etc.
User-Friendly Dashboard
Want to provide a great experience to your viewers? Appdupe's clone app script gives an attractive, user-friendly dashboard that can assist users in using every functionality seamlessly.
Inbuilt Video Player
Stream an unlimited number of videos with an easy-to-use inbuilt player. Loaded with an ample number of navigation controls and features, users can watch videos easily at their convenience.
Advanced Search Options
With an option available for advanced search module, our Netflix Clone script ensures that users can find videos with much ease. Our categories for searching are based on the name of TV shows, movie titles, actors, genre, directors and many more.
Feature-rich Admin Panel
Manage every module from uploading videos on the application to handling the database of user's information with a powerful Admin Panel. Our video-streaming clone app script is rich with the most unique and advanced features. Let your users enjoy the best-personalized video categories.
Admin Managed Blogs
Inform your users about the latest documentaries, web series, subscription offers. Excite them with new, out-of-the-box content. Let your admins manage this through blogs and update everything regularly.
Profile Management
Want to have a hassle-free experience for logging into your application? Let your users create their personalized profiles in no time. Allow them to add their favorite videos to their watchlist and check their viewing history.
Content Management
Organize and handle all video content for your entire Netflix Clone application from a single place. Appdupe's script permits admins to manage everything from TV shows to movies effortlessly.
User Management
Monitor your customer database efficiently with all information of your users through the 'user management' module. Keep a track of their behavior with the number of subscribed users for various plans.
Advanced Filter Options
Make the tiresome job of searching for a movie easier by providing your users with the feature of the advanced filter. Searching made easy by filtering the videos on basis of multiple parameters like 'New Releases', 'Most Popular', 'Recently added' etc.
Reviews & Ratings
Wish to know what your users think of your video-streaming platform? Let your users rate the videos and provide honest reviews. Understand the taste of videos of your users. Get an idea about your app and develop it in a better way.
Reports & Statistics Management
Analyze and understand the performance of your website or mobile application with this feature. Enable your admin to view usage statistics and generate relevant reports for enhancing the potential of your app.
Industries We Serve
Toggling Availability
Our expertise in rendering and stretching services for the development of Mobile Apps, Web Apps, Web-Hosting, UX & UI designs, Digital Marketing, Support, and associated services are appreciated by our clients.
Video watchers with the ultimate quest to find intriguing content can simply surf or skim through multiple videos.
Every video they choose to add in their customized publication must be a part of either the category or a renowned artiste.
With the redesigned app model, every viewer will have options to streamline the content they wish to watch and share with their fellow viewers.
Categorizing the views will introduce viewers to many hidden yet important videos on the platform.
View Demo
Get both the Android and iOS apps for free. After all, building a business doesn't have to cost you a bomb!